[quote:df087afb4e="Treefox"]Yep, also going to post that Winnie-vision from Jade Owl's story Changelings here as well.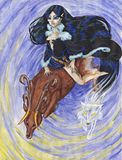 [/quote:df087afb4e]
Think I'll have to read that story, cuz that picture is just.. weird :s Bit like seeing Rayek howling O.o disturbing. But gorgeous art ;)
Winnowill is.. one of my favourites. Dark, mysterious, full of confused feelings, not good/evil. + she has long black hair and pale skin. Gorgeous..
Haven't read Rogue's Curse, but damn! If I can get my hands on it, I will.