Thank you so much for your analysis, spiritofthewater !
I agre 100%, but I would appreciate seeing more fans expressing their ways of considering Wendy's early art...


Quote:
spiritofthewater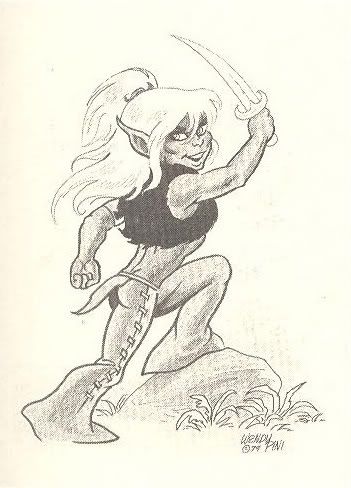 This shot perfectly illustrates what I meant with "naïveté".
Wendy has already explained, re-explained, and gone in great lengths to justify her style evolution, and I do NOT argue about it.
Just this : having seen it all, I, for one, STRONGLY prefer her style in the ~1978-1983 period.
( Even if I DO appreciate what Wendy's art has become, of late, especially with Discovery, even if I'm afraid, for having witnessed the very same phenomenon with other comics artists, she has too much emphasized the "line purity", of late - a caricature on that aspect is what Jean Giraud's - aka "Moebius" - style had suffered, at a time )
And "naïveté" was but one of the traits that caught our eye and heart in Wendy's early style : it was also EXTREMELY dynamic, with a high sense for angles, shades and the like.
Lately, with Discovery, Wendy proved she could do wonders with colours, too.
But, personally, I find she should NOT try and "prove" anything anymore...
  ...but make CHOICES ( and be PICKY about them, in every aspect ), from now on, instead, about next Elfquest stories AND plots.