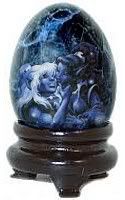 - for G0lden ... I missed you - real life is demanding, I know.
This egg is Sodalite - hard to tell that it's not the original background
- for Watershaper ... glad you had hunting fun in your limited time!
This egg is Moonstone ... longing for a "spirit" for sure!


Only one gift egg missing - hopefully its owner will show up soon.