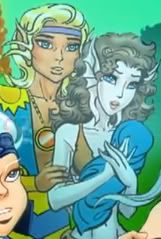 This close-up from a Final Quest teaser makes me wonder ...

1. Is the bundle Brill huddles the child she is carrying after the Recognition in Discovery?

2. Is it another child from a second Recognition with Sunstream?

3. Is it (possibly) the child of Ember and Teir, adopted after something happened to the parents?